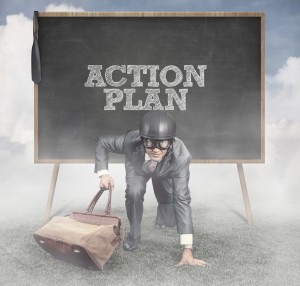 Do you want eLearning to have an impact on your people, so your people can have a positive impact on the business?
Yes, that is actually what our research demonstrates.  When eLearning is accompanied by an action plan the results go through the roof.
What results? The business results that can be attributed to the training.  The reason is simple.  An action plan documents how the learner will apply what he or she learned.  Accountability is created when the individual completes the action plan and shares it with managers. Hard evidence is created when the individual records the results of his or her application of the action plan. The action plan essentially becomes a link between what is learnt and the impact it had on the business.
An action plan includes any type of document created by a learner that states the actions he or she will undertake in relation to what they have understood to be the learning objectives or goals of any given learning, training, mentoring or coaching program delivered via self-paced e-learning or a virtual classroom.  Adult learning theorist Malcolm Knowles describes a series of problems that are solved through the use of action plans, primarily because they allow individuals to develop a sense of ownership and take responsibility for outcomes.
To incorporate action plans into eLearning courses is simple.  What is important is that the action plan be structured in a meaningful and relevant way and that it allows for easy access and follow-up.  Typically, action plans have been paper-based making them hard to store, retrieve and track.  Within an eLearning course they become electronic; the learner can access them when they want; others like managers can view them at any time; learners can complete them at their own pace and make any changes as needed.  In a way, the action plan acts a self-regulating mechanism that the individual uses to hold him or herself accountable to apply what they learned.  Marshall Goldsmith states in Trigger that our performance improves when we know we will be tested in regards to our personal effort.  An action plan commits the individual to exert the effort in applying what they learn with themselves and others.
It's a simple technique. A powerful one that adds rocket fuel to your eLearning programs. It's a technique that more often than not gets dismissed and should not.  Adding an action plan to an eLearning course can ensure that it positively impacts your people and improves your bottom line.