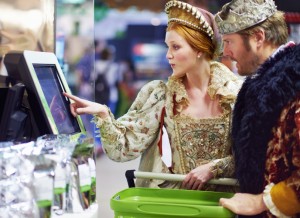 Have you heard the talk when it comes to eLearning that says:  "It rarely lives up to its expectations"?
In the mid-90's and early 2000's the talk was clear: eLearning would take over the world!  Then came the fact that it was self-paced e-learning that was going to give corporations an effective, efficient and economical way of distributing knowledge across the corporation. Then reality struck.  Completion rates of self-paced eLearning when not mandatory were below 5% in most organizations and people were complaining left and right when told to take any eLearning course.
It appears that most people forgot that not all eLearning is created equal.  There were many electronic page turners (EPT) that were given the name of "eLearning" and since many corporate learning and development departments who purchase and develop eLearning don't actually consume it (or take it),  these EPTs would make it past them.   (We jokingly call this "the dog food syndrome" because the owner of the dog – who buys the dog food – doesn't actually consume it).  These EPTs reinforced the perception that eLearning was just not living up to anybody's expectations evidenced by dismal completion rates and low satisfaction scores.
The bright stars in all of this were the organizations that invested in the right instructional design resources and built real online self-paced interactive learning experiences.  This weeded out the organizations that were serious about leveraging the eLearning medium from the ones that didn't.  However, there is a way to ensure that eLearning lives up to its expectations even if we dare call EPTs eLearning, and that is to make eLearning or EPTs part of a blended approach.  Obviously, a well developed, instructionally sound course will be able to support a blended approach better than an EPT but both can be designed into a blended approach that doesn't rely exclusively on the eLearning or the EPT to be effective but on a blended strategy that leverages other mediums like face-to-face instruction, live virtual classrooms, and experiential learning opportunities to achieve tangible results.  The concept is that in order for simple eLearning to be king and live up to its expectations, it has to be part of a more robust blended approach.